Description
Mediatek LinkIt Assist 2502 Open Source Hardware Board Targets Wearables and IoT Applications
After LinkIt ONE, Mediatek Labs has introduced a new IoT development kit based on their Aster M2502 ARM7 processor with LinkIt Assist 2502 comprised of AcSiP MT2502A IoT SiP Core module, a 802.11b/g/n module, a GNSS module, and an exchangeable 240×240 16-bit color capacitive touch LCM Board. The AcSiP module can also be purchased separately, so you could use LinkIt Assist 2502 board for early development, because moving to your custom hardware based on AcSiP MT2502A module.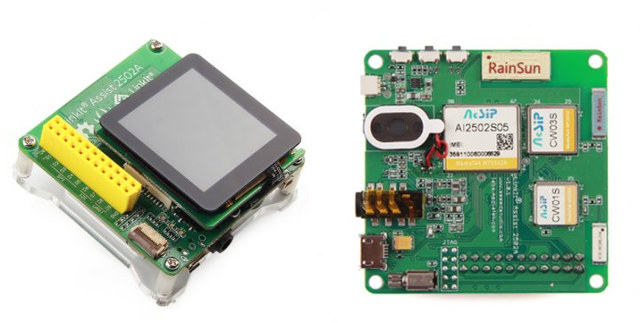 LinkIt Assist 2502A specifications:
MCU – AcSiP AI2502S05 module with  MT2502A (Aster) ARM7 EJ-STM processor @ 260MHz, 4MB RAM, 16MB flash
Display – 240×240 LCD module; 16-bit color depth; transflective; based on ST7789S driver IC.
Connectivity

Wi-Fi 802.11 b/g/n via AcSiP CW01S module based on MT5931 SoC
Bluetooth 2.1 SPP and 4.0 GATT dual mode (part of MT2502A)
GPS via AcSiP CW03S module based on MT3332 chip supporting GPS, GLONASS, and BeiDou.
GSM 850/900/1800/1900MHz / GPRS class 12  (part of MT2502A) with micro SIM slot

I/Os

14x digital I/O (Voltage 2.8V)
4x analog input (0~2.8V)
2x PWM
2x external interrupt pins
1x I2C (master only) @ 100Kbps, 400Kbps, 3.4Mbps
1x SPI (master only) @ 104Kbps to 26Mbps
1x UART (Rx, Tx), 1x UART on USB
Xadow (Seeed Studio) connector

Audio – Speaker, headphone jack
USB – micro USB port for charging and development
Misc – Power button, 2x user buttons, vibrator
Power Supply – 5V via micro USB port; 3.7~4.2V Li-ion battery (Battery is required to boot)
Dimensions – Board: 53x53x16 mm (with display); Module: 17x15x1.8 mm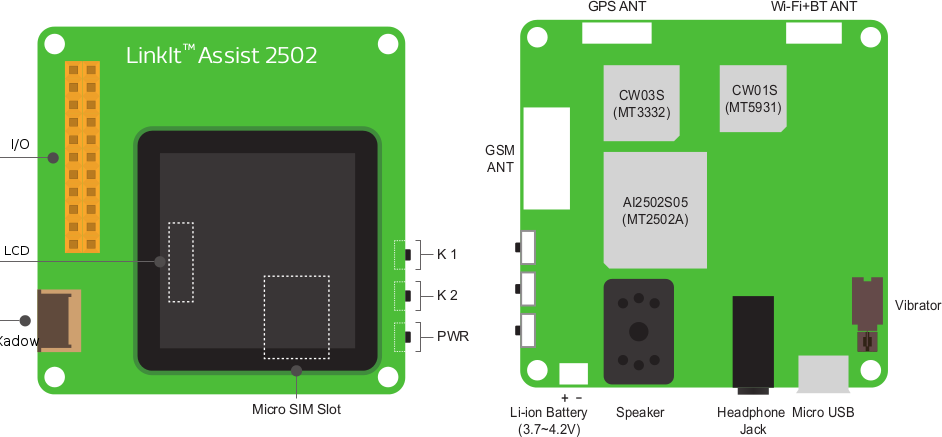 The kit includes LinkIt Assist 2502 Board, the 240×240 Touch LCM Board, a 240mAh Lithium-ion battery, and a user's manual. The company provides the hardware design files including Eagle schematics and PCB layout for the main board and LCD module, as well as datasheets for the main ICs and modules.
Beside the hardware platform, Mediatek Labs also released MediaTek LinkIt Assist 2502 SDK providing a  plug-in for Eclipse IDE (with CDT) and tools to update development board firmware and upload software. Key feature of the software development kit:
C-based API
Compiles LinkIt Assist 2502 execution file format (.vxp)
LinkIt Assist 2502 API libraries used to create apps for the HDK
Communication functions for TCP sockets, HTTPS, Bluetooth 4.0 GATT and more
User interface through LCM display module with support for vector fonts (powered by Etrump), graphics, JPEG decompression, and more.
Compatible with Eclipse IDE (Indigo) with CDT plug-in (8.0.2 or later)
Supports Microsoft Windows XP, Vista, 7 and 8 (So Linux users are out of luck)